Sylff's Silver Jubilee in China (4): Four Universities Celebrate 25th Anniversary in 2019
Sylff was first established in China in 1992, and five Chinese universities celebrated the program's twenty-fifth anniversary in 2018. In 2019, four more universities—Xinjiang, Inner Mongolia, Chongqing, and Yunnan—which joined Sylff in 1994, also held their twenty-fifth anniversary ceremonies. These four universities were selected as Sylff institutions with the aim of selecting not only the best-known universities in the country but also those promoting ethnic diversity.
The celebrations began in June in northern China at Xinjiang University and Inner Mongolia University. The delegation from Japan visiting the two schools was led by Nippon Foundation and Sylff Association Chairman Yohei Sasakawa and included members of the Tokyo Foundation for Policy Research (Sylff Association secretariat) and the China Education Association for International Exchange.
Xinjiang University holds the largest number of Uyghur students in China and is committed to serving the needs of the regional community, respecting ethnic diversity, and advancing a dynamic international strategy. This year also marks the ninety-fifth anniversary of the university's founding.
The anniversary event at Inner Mongolia University on June 12 featured a donation ceremony for the Ryoichi Sasakawa Memorial Library, to which over 6,000 books have been donated since its establishment in 2010. After the ceremony, Mr. Sasakawa held a group interview with members of the local media. One of the journalists, it turned out, was a Sylff fellowship recipient when she was studying for a master's degree at Inner Mongolia University.
Events in southwestern China, meanwhile, were held in September, starting with a meeting of Chinese Sylff administrators on September 22 at Chongqing University. Administrators from all 10 Sylff universities in China (Fudan, Jilin, Lanzhou, Nanjing, Peking, Chongqing, Inner Mongolia, Xinjiang, Yunnan, and Sun Yat-sen) gathered to discuss concrete plans to focus Sylff funds on a smaller number of select fellows. Ten fellows who were selected in 2019 from the 10 universities were invited to speak about their research activities and gave inspiring presentations to meeting participants.
Chongqing University is also marking its ninetieth anniversary this year. "It's a great honor to celebrate Sylff's twenty-fifth anniversary at Chongqing in this very special year," as Mr. Sasakawa noted at the ceremony on September 23. "Seeing how successfully the program has unfolded at the university, I feel very proud that we asked Chongqing University to join our Sylff community two decades ago. I hope that everyone here will work toward a brighter future for all, no matter what difficulties you may encounter along the way."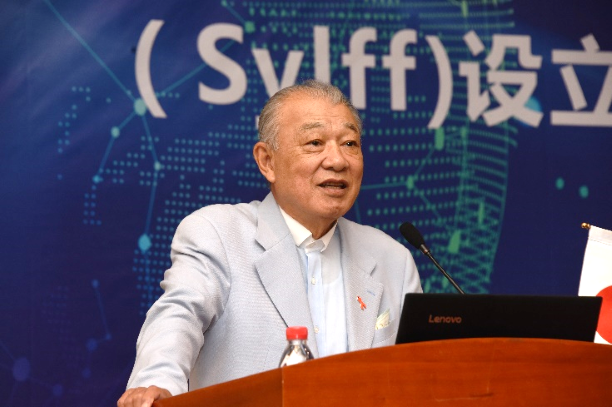 The September 25 anniversary celebration at Yunnan University was attended by over 200 participants. Yunnan fellow Liu Guoqian, who received a fellowship in 2007 and whose wife was also a fellowship recipient, made a speech during the ceremony, inviting laughter when he jokingly noted, "Thanks to Sylff, I was able to find not only my career path but also my life partner!"