Sylff@Tokyo: A Surprise Visitor from Vienna!
Conductor Yuki Kakiuchi, Sylff Fellow and Besançon Competition Winner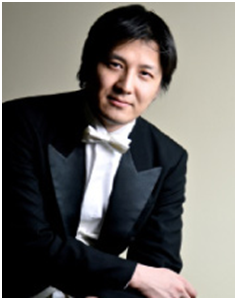 Yuki Kakiuchi, who received a Sylff fellowship while attending the University of Music and Performing Arts Vienna (MDW) in 2005, visited the Tokyo Foundation on October 10. Having won the first prize at the 52nd International Besançon Competition for Young Conductors in 2011, Kakiuchi is one of the most highly acclaimed young conductors today. Besançon has produced such renowned figures as Seiji Ozawa, Sylvain Cambreling, and Yutaka Sado and is one of the foremost conducting contests in the world.
After graduating from the Tokyo University of the Arts, Kakiuchi moved to Vienna to study orchestral conducting at the University of Music and Performing Arts Vienna. He graduated from the university at the top of his class and completed his studies at the graduate school.
He has led many orchestras in Europe since his debut with the Brasov Philharmonic Orchestra in Romania. Currently, his musical activities are based mainly in Vienna and Japan.
"I'm truly grateful for the Sylff fellowship, which enabled me to concentrate on studying conducting in Vienna," Kakiuchi said. "What I learned then continues to support my activities."
His visit was a surprise "gift" from David Panzl, who performed as part of the Michinoku Wind Orchestra at Suntory Hall in August 2012. Panzl, percussionist and assistant professor at MDW, was visiting Japan to lead lessons in Tokyo and brought his friend Kakiuchi to the Tokyo Foundation. Kakiuchi says he was happy to have a chance to visit the Foundation and to describe his activities in person for the first time.
Kakiuchi has upcoming concerts in Tokyo and Yokohama:
・The 6th Yomikyo College (Yomiuri Nippon Symphony Orchestra) - Friday, November 15, 2013
・The 294th Kanagawa Philharmonic Orchestra Regular Concert – Friday, November 22, 2013
The Tokyo Foundation is proud of his outstanding achievements and will continue to follow his illustrious international career.
Sylff fellows and steering committee members are always welcome to stop by the Foundation's office while visiting Tokyo.