Fellowships Conferred at Waseda University Ceremony
Two Waseda University graduate students were presented with Sylff fellowships during a ceremony held on June 18, 2014, at an administrative building named after university founder Shigenobu Okuma. The recipients for the 2014 academic year were Aya Kudo, who is in the fourth year of a doctoral program at the Graduate School of Political Science, and Nguyen Thi Phuong Thanh, a first-year doctoral student at the Graduate School of Commerce.
Naoto Onzo, the university's executive director for research promotion, public relations, and the graduate school system and the chairman of the Sylff steering committee, congratulated the two awardees and encouraged them to demonstrate academic excellence as well as personal integrity as leaders who can make a positive contribution to global society.
Professor Mitsuhide Shiraki, chairman of the selection committee noted, "I hope that this year's recipients will utilize their fellowships to assiduously advance their research. We look forward to hearing their progress half a year from now. At the end of the year, they will be presenting their research results to the steering committee and representatives from the Tokyo Foundation."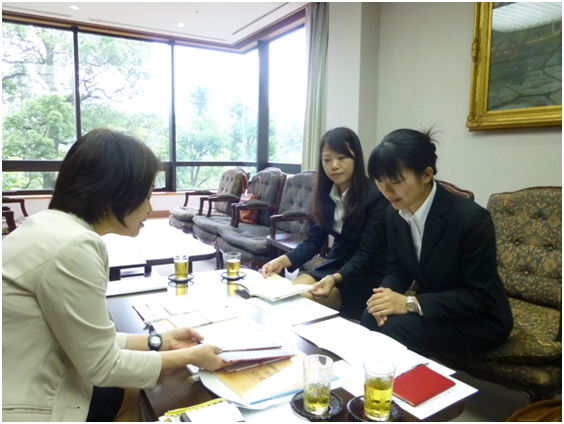 Aya Kudo is undertaking an analysis of the state-run Chinese media and how it is affected by both domestic and foreign private capital. Having been enrolled in a double-degree program, she has undergraduate and master's degrees from both Waseda University and Fudan University, a Sylff institution in China.
Nguyen Thi Phuong Thanh is studying the influence of foreign directors on corporate governance and management performance in Japan. She is from Vietnam and has an MBA from Waseda University. She hopes to return to Vietnam as a researcher in 10 years' time and to contribute to deepening Japan-Vietnam ties in various ways.
Attending the ceremony from the Tokyo Foundation were Director for Leadership Development Mari Suzuki and Program Officer Yoko Kaburagi, who expressed the hope that the new fellows would take advantage of Sylff's global network to advance both their academic pursuits and personal development.