Having gained a "keen appreciation for the uplifting power of music" through his participation in the charity workshops and concerts for areas affected by the March 2011 earthquake and tsunami, Paris Conservatoire Sylff fellow Carl-Emmanuel Fisbach launched a Sylff Leadership Initiatives project to utilize music as a potent tool for social cohesion in disadvantaged districts of Peru. Below, the saxophonist details the discoveries made during the initial seminar—held in collaboration with both Europe-based and local musicians—of a five-part SLI project.
* * *
My involvement with the "Together in Tohoku" Sylff project in August 2012 marked a turning point in my conception of the musician's role in society.
Through that experience, when I was among a group of Sylff musicians who participated in charity workshops and concert in support of areas affected by the March 2011 earthquake and tsunami, I gained a keen appreciation for the uplifting power of music and decided to apply that inspiration to other parts of the world. Little did I know that my path from Japan would eventually lead me to Peru.
A Socio-Musical Intercultural Project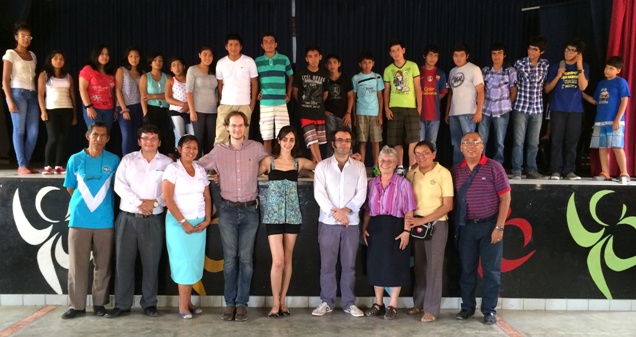 After a string of concerts in Latin Amerca in 2012 and 2013 with the Lima Conservatory and the nongovernmental organization ErArt, which promotes cultural events in less developed areas of Peru, I helped formulate a socio-musical intercultural project titled "Participative Music-Making in Disadvantaged Areas and Pedagogical Training for Saxophonists" that took place in February 2014 with generous assistance from Sylff Leadership Initiatives, ErArt, and the National Conservatory of Music in Lima. The project team included the musicians who accompanied me in Lima during my first tour of the region.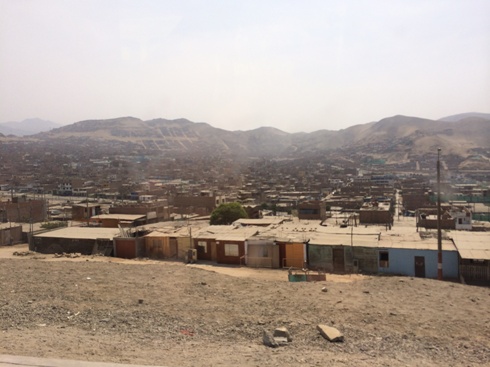 With a poverty rate of 30%; Peru seemed perfectly suited for our planned project of social uplift and edification. From the start of the program, we sought to artistically engage with the local population through concerts and hands-on teaching sessions. Music is a potent tool for social cohesion—one that can transcend social, cultural and linguistic differences while promoting intellectual and spiritual development. Studies demonstrate that participation in cultural events enhances citizens' sense of belonging within a community. Peruvian saxophonists were instrumental in imaging the project.
The initial 10-day SLI seminar held in Peru in February 2014 was the result of extensive deliberations and was the first in a series of five that will be held every six months through February 2016.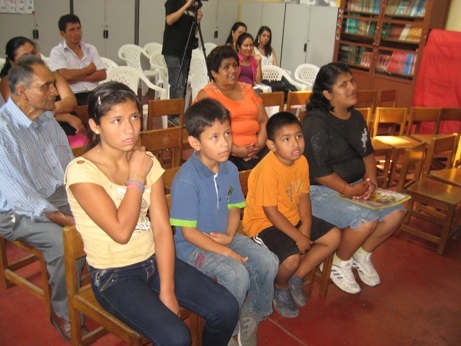 Each seminar has two components: (1) musical workshops in disadvantaged neighborhoods of Lima and its environs to help audiences discover various instruments and contemporary music in partnership with ErArt and (2) professional-level training of saxophone teachers from the principal Peruvian conservatories in partnership with the National Conservatory of Music in Lima.
The long-term objective is for the two Peruvian institutions—ErArt and the Conservatory—to organize more joint activities to sustain the energy generated by the seminars. In many respects, the project was similar to the 2012 Sylff-organized trip to Japan, featuring workshops in Sendai and a concert with middle- and high-school wind musicians at Suntory Hall in Tokyo.
Confronting Reality
The purpose of the Peru project was clear, but preparations were arduous. I had never coordinated such an ambitious project involving partners in such far flung countries as Japan, Spain, France, Peru, and the United States. In February 2014, I travelled to Lima with the cellist Marie Ythier, with whom I perform in the cello-saxophone Denisov Duo. After a taxing flight filled with delays and missed connections, Marie and I arrived in Lima, where everything all at once became real.
On our first day, we traveled to a municipal school to work with local residents of all ages. It was a joy to share our passion for music with such a receptive, open-minded, and motivated group. Everyone was curious, from small children who imitated the cellist's use of the bow to the institutional directors who would spontaneously come to the microphone to sing a traditional melody while we improvised an accompaniment.
There were some, though, who questioned our motives for coming to their country to perform as professional musicians—a clear indication that our work would not be easy.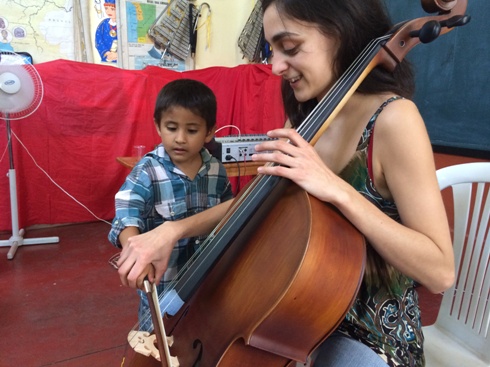 Our program included visits to two schools: the Republica de Brasil not far from the center of town and the Fe y Alegría 33 in the suburbs of Ventanilla to the north of Lima. The bus rides, made with our Peruvian counterparts, were profoundly disturbing. Entire neighborhoods consisted of half-built houses with bare earth as sidewalks. Though we had prepared ourselves for such scenes, the poverty was unrelenting and deeply affecting.
Nevertheless, we came to realize that the schools were protected and much cared for—not only physically but also by the respect they evoked from the local people. It was not rare to see advertising campaigns for these schools or to hear slogans on the radio, such as "Our Education Is Our Future," including mention of specific schools like Fe y Alegría.
According to the music and other teachers we met, Peru lacks teacher training for music instructors, especially in the public schools. This was the main reason we were invited by ErArt to share our European approaches with members of the Education Faculty at the PUCP (Pontificia Universidad Católica del Perú)—encounters which proved to be highly successful. The same enthusiasm marked our sessions with the saxophonists at the Conservatory and led to our endlessly pleasurable exchanging of musical knowledge.

Our various concerts were well received, even when they focused on so-called "serious" classical music. It appears that this genre is in fact much sought after in South America. A workshop-concert organized by ErArt gave us a chance to provide the audience with key insights into each work, thus creating an intimate, convivial relationship with listeners.
ErArt wishes to strengthen its links with music education institutions in Peru. The initial workshops and concerts I helped develop in disadvantaged areas will be subsequently enlarged by ErArt through joint projects led by the saxophone professors who participated in the project.
Pursuing this work in the months and years ahead constitutes a wonderful opportunity, one that may be particularly useful for Peruvian saxophone players, as courses via the Internet are put in place.
I would once again like to thank the generosity of the Tokyo Foundation, the Paris Conservatoire, and the Juilliard School for their support and assistance in structuring the project so as to strengthen the links between music and society. Without them, this project would not have been possible. I am already eager to begin the second seminar in October!
Schedule of Upcoming Seminars:
—October 2014, with pianist Wenjiao Wang
—February 2015, with Wenjiao Wang and saxophonist Rodrigo Vila
—October 2015, with Marie Ythier
—February 2016 (last session), with saxophonist Claude Delangle and Rodrigo Vila