Sylff@Tokyo:Vienna Violinist Enchants Audiences in Japan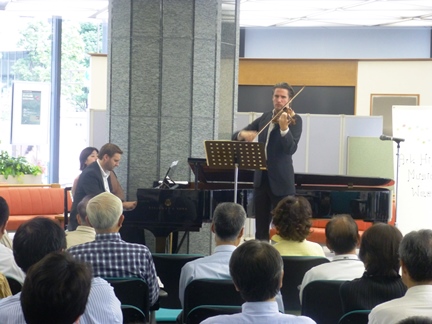 Violinist Johannes Fleischmann, a 2013 Sylff fellowship recipient at the University of Music and Performing Arts, Vienna, made a tour of venues around Japan in October, including a special lunchtime performance at the Nippon Foundation on October 7.
He was touring Japan with Philippe Raskin, a Brussels-born pianist with whom Fleischmann has been working as a duo since 2010. The Nippon Foundation Lunchtime Concert is a bi-weekly classical music series held at the Nippon Foundation Building that is very popular among music lovers in central Tokyo.
In 2011, Fleischmann participated in concerts for children in areas devastated by the tsunami and earthquake earlier that year as a guest member of the Vienna Philharmonic Orchestra. His visit to Japan this time was realized after the duo was selected by the Austrian Ministry of Foreign Affairs as ambassadors for the New Austrian Sound of Music (NASOM) Program in 2014–15 to promote Austrian music overseas.
The duo's performance at the Nippon Foundation started with Beethoven's "Spring Sonata," followed by the Tokyo premiere of "Matsushima Fantasy" dedicated to tsunami and earthquake victims, composed by Christoph Ehrenfellner. The concert closed with a jazzy improvisation piece that enthralled the Tokyo audience.
The duo's tour of Japan also included concerts in Machida, Arakawa, Kobuchizawa, Shiogama, and Sapporo. In addition to being outstanding performers, they are socially engaged teachers and leaders, holding workshops for underprivileged children all around the globe. We wish them the best of luck with their careers!



Johannes Fleischmann Born in Vienna in 1983, Johannes Fleischmann received his first instrumental foundations at the age of 5. In 2003, he began his studies at the University of Music and the Performing Arts Vienna, in the classes of Klaus Maetzl and Christian Altenburger. He now performs as a solo violinist and chamber musician at numerous stages around the world and also regularly guests in celebrated orchestras, such as the Vienna Philharmonics and the Vienna Symphony. In 2010 he founded, with pianist Philippe Raskin, the "Raskin & Fleischmann" duo. Since then, they have toured extensively around the world, performing numerous concerts in Europe, Asia, South America, and Africa. http://www.johannesfleischmann.at/