Sylff@Tokyo:Toward Financial Inclusion in the Philippines
Lindsey Lim, who received a Sylff fellowship in 2014 at Columbia University, visited the Tokyo Foundation in January 2015 to give a presentation on her ongoing project to promote financial inclusion in the Philippines. The session was attended by researchers and program officers of the Tokyo Foundation, as well as specialists for sustainable development, who commented they were impressed with her deep understanding of the needs of the people who are among the most vulnerable in Philippine society and innovative ways to promote their social inclusion.
She is currently directing the Kasambahay Savings Project targeting full-time domestic workers (kasambahay in Filipino) who live in the homes of their employers. They are usually paid in cash, and the minimum monthly wage is about $60. Lim's project aims to enable these workers to open bank accounts and receive a broader range of financial services. It also examines financial inclusion techniques and policies at the local level.
With the help of a local commercial bank, churches, and governments, she has been successful at persuading about 180 domestic workers to open their first savings accounts, and she is currently monitoring their savings progress.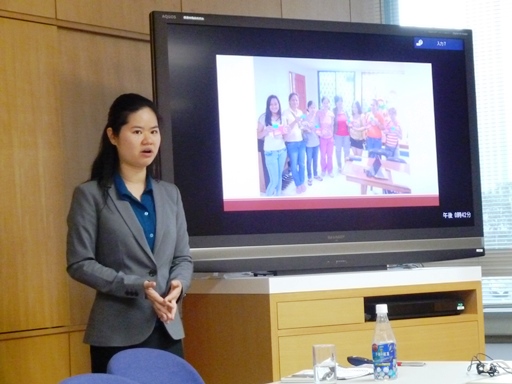 Her presentation at the Tokyo Foundation was based on those given at the Central Bank of the Philippines and the World Bank office in Manila. She has also appeared on a TV news program, on which she explains her project in a very concise and lucid manner: Wise Investments Wednesday, "Kasambahay Savings Project," 9TV Philippines (6:47 minutes) .
Lindsey Lim is a dual degree student at Columbia University and the University of Tokyo. Prior to pursuing a master's degree, she worked for an NGO, the World Bank Group, and Citibank and interned for a member of the British Parliament.
The Tokyo Foundation wishes her the best of luck with her project.