A national music festival to promote the training of young Lithuanian musicians was organized by Dalia Dedinskaite and Gleb Pysniak, Sylff fellows who attended the University of Music and Performing Arts Vienna. Called Ars Lituanica, the forum was held between December 3 and 7, 2014, at Balys Dvarionis Music School in the Lithuanian capital of Vilnius as a Sylff Leadership Initiatives (SLI) project.
* * *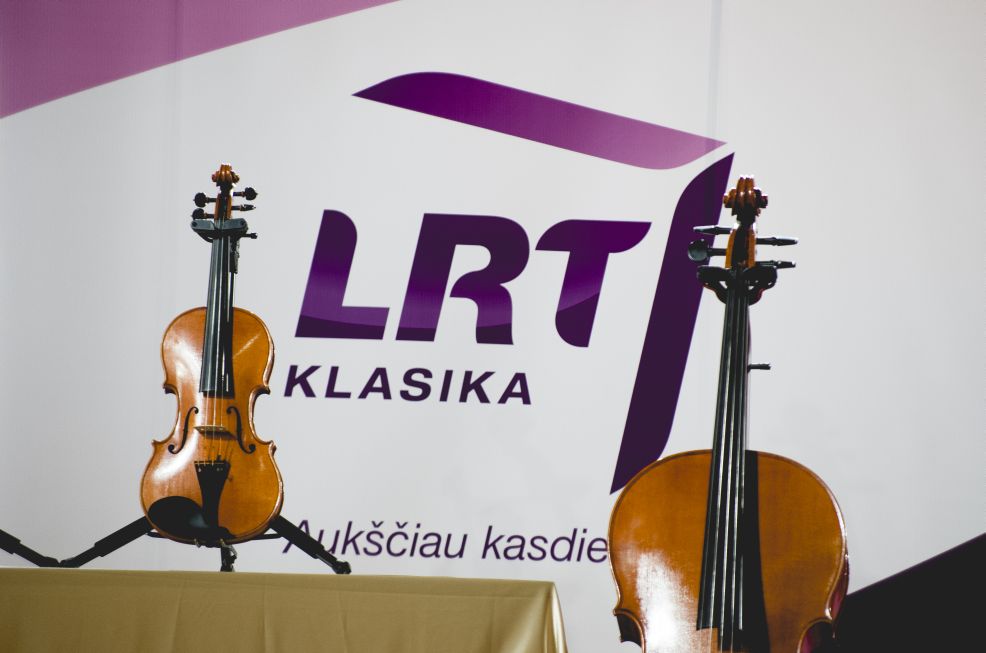 Young Lithuanian musicians have considerable trouble acquiring high-quality music instruments that will allow them to adequately improve their skills. Violinist Dalia Dedinskaite and cellist Gleb Pysniak were no exceptions, who faced this difficulty when they moved from their native Lithuania to Vienna to receive professional music training. Prices for fine European instruments start at around 10,000 euros for violins 18,000 euros for cellos. These are far too high for many Lithuanians, whose average monthly salary is just 531 euros, according to official government statistics.
Dedinskaite and Pysniak were able to overcome this challenge thanks to their professors' support and their own determined efforts, but the experience left a deep impression, making them realize the acute need to help young musicians in their own country. It was through this experience that the idea for Ars Lituanica—a national forum and competition for violinists and cellists—was conceived. The idea eventually came to life through their strong initiative, passion for music, and love for their country.
They first succeeded in gaining the cooperation of famous and acknowledged craftsmen of stringed instruments—Wolfram Ries of Germany and Valdas Stravinskas of Lithuania—who agreed to lend their instruments as competition prizes and for exhibition during the forum. They also secured the patronage of President Dalia Grybauskaitė of Lithuania, who sent a message of encouragement to forum participants. They also gained the support of the Lithuanian Council for Culture, the Ministry of Culture of the Republic of Lithuania, and a number of private businesses. Thanks to these efforts, the forum attracted many outstanding young Lithuanian musicians and the interest of a broad segment of the general public.
The main aim of the forum was to draw the attention of young musicians—along with their teachers and parents—to the importance of musical instruments in the development of their skills and to give the best young Lithuanian musicians the opportunity to use world-class stringed instruments and to perform at concerts in Lithuania.
National Competition
The highlight of the four-day forum was a national violin and cello competition, in which the winners were given the privilege of using top-quality violins and cellos for one year. In the first round, held on December 4 and 5, 18 musicians competed in two age categories, and in the final round on December 7, eight finalists competed for a chance to use the four valuable instruments.
In the 14–17 age group, the winners were awarded the use of a violin and cello made by Lithuanian luthier Valdas Stravinskas. The violin is valued at approximately 5,800 euros and the cello at 10,000 euros. The winners in the 18–22 age group were given the opportunity to use a violin and cello made by German luthier Wolfram Ries, valued at 12,000 euros and 22,000 euros, respectively.
The winning contestants also performed at the Kaledinis Vilnius (Christmas in Vilnius) festival at the Vytautas Kasiulis Art Museum.
A Festive Atmosphere
An exhibition of the first modern string instruments in Lithuania was held as a side event, which was full of visitors over all four days. Luthiers were also on hand to speak with students, teachers, and professional musicians; make small adjustments and new bridges for violins and cellos; and rehair bows.
On December 6 luthiers held a workshop on the history of string instruments, answering questions and giving tips on the proper care of their instruments as well as on how musicians can improve their sound and comfort during performances.
Also on December 6 Dedinskaite and Pysniak joined violin virtuoso and professor Christian Altenburger to give masterclasses to competition participants and other young Lithuanian musicians.
The forum concluded on December 7 with a concert by the competition winners and an awards ceremony.
Major Impact
Ars Lituanica was a tremendous success. The event attracted great media attention, with over 30 articles appearing in major Lithuanian newspapers. Fellows Dalia Dedinskaite and Gleb Pysniak were interviewed by Lithuanian National Radio, and Lithuanian National Television aired footage of the Kaledinis Vilnius festival concert by the prize winners on the main evening news.
"During the Forum, a very cozy, fancy, festive atmosphere could be felt," commented Pysniak in an article published by 15min.lt, a popular web-based newspaper in Lithuania. "It is a great pleasure to help young talents to pursue greatness in music by improving their performance technique and playing characteristics. And it is good to know that there are so many gifted and promising musicians in Lithuania."
In the same article Dedinskaite said she was very happy that renowned violin virtuoso and educator Christian Altenburger visited Lithuania and gave his first concert in the country.
"Young musicians were able to not only learn from Mr. Altenburger's experience but listen to his music as well," she noted. "The most important thing is that this project was a success and that four young, talented artists were granted the chance to use top-class instruments. I hope that this event will become an annual tradition."
Going Forward
Pysniak and Dedinskaite are themselves outstanding performers, but they were not satisfied with striving only for personal success. Displaying strong leadership, they sought to make a contribution to raising standards of musical performance in their country in a creative and imaginative manner. Their passion and enthusiasm persuaded government organizations and private businesses to offer their support, significantly enhancing the impact of the event. The Tokyo Foundation hopes that their SLI project will inspire and encourage other fellows with similar aspirations to launch a project aimed at bringing positive changes to society.
We hope that the young musicians who participated in the forum will become leaders of the classical music scene, emerging as role models for the next generation of young artists in Lithuania and around the world.