Happy New Year from Mr. Sasakawa and the Sylff Staff!
The Sylff program will mark its 30th anniversary in 2017, when we will launch a number of new Sylff support programs to better meet fellows' expectations and launch a Sylff Association to make sure we all stay connected.
SYLFF NEWS 2016
New Chair of the Board
In June, Takeo Hoshi, the Henri H. and Tomoye Takahashi Senior Fellow in Japanese Studies at Stanford University, joined the Tokyo Foundation as Chair of the Board. Before moving to Stanford in 2012, he taught at UC San Diego for over 20 years, where he served as chair of the Sylff Steering Committee. He congratulated Philip Voris on being selected a Sylff fellow at UC San Diego this year when the latter visited the Foundation in December.
Meeting of Chinese Sylff Administrators
On December 8 and 9, Sylff administrators at 10 Chinese universities (Fudan, Jilin, Lanzhou, Nanjing, Peking, Chongqing, Inner Mongolia, Xinjiang, Yunnan, and Sun Yat-sen) gathered at Peking University to discuss plans for events to commemorate the twenty-fifth anniversary of the Sylff program at 10 Chinese institutions in 2017 and to review Sylff program operations and endowment management.
UNSW Australia Celebrates 25th Sylff Anniversary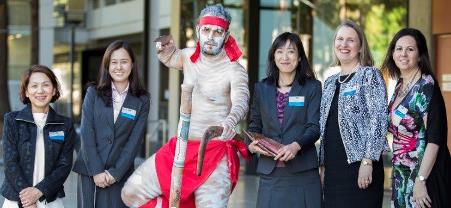 On November 2, UNSW Australia Business School in Sydney celebrated 25 years of Sylff with the participation of socially engaged fellows whom the School has supported over the years.
New Scheme
We are pleased to announce that 10 institutions have successfully signed agreements to join the new financial scheme as of December 2016. In 2016, fellowships were awarded to 38 graduate students from six institutions under the new scheme: Coimbra, Institute of Political Education "Pedro Arrupe," Leipzig, Deusto, Comenius, and Conservatoire National Supérieur de Musique et de Danse de Paris. In 2017, these institutions will be joined by National and Kapodistrian University of Athens, Ruhr University Bochum, University of Chile, and University of Belgrade.
SYLFF SUPPORT PROGRAMS
Five fellows received Sylff Leadership Initiatives awards in 2016, and 28 received Sylff Research Abroad grants. We look forward to receiving many more applications in 2017. We are currently conducting a survey on new support programs and are eager to receive comments from as many fellows as possible. More information about the survey is available at Survey on New Support Programs.
SYLFF@TOKYO
We welcomed many current and graduated fellows as well as Sylff administrators to the Tokyo Foundation in 2016.
December 20
UC San Diego Fellow Applying Cross-Cultural Experience in Pursuing International Affairs Degree
September 13
Sylff Scholars Discuss Their Social Initiatives, Meet with Mr. Sasakawa
June 16
Juilliard Fellow Hopes to Promote Multicultural Communication
June 6
Deepening Collaborative Ties with Portland State University
February 15
Jagiellonian University's Prestigious Leadership Program
SYLFF WORLDWIDE
We're happy to share news of notable achievements by Sylff fellows around the world:
July 20
Howard Research Week Highlights Partnership with Sylff Program
July 14
Jadavpur Fellows Visit Hansen's Disease Patients in Kolkata
January 18
Dylan Corlay Wins Top Prize at Jorma Panula Conducting Competition