Mr. Yohei Sasakawa, Chairman of The Nippon Foundation, Awarded Honorary Professorship by Yunnan University, China
Mr. Yohei Sasakawa, Chairman of The Nippon Foundation, was awarded an honorary professorship by Yunnan University, a Sylff institution in China, on March 11, 2009.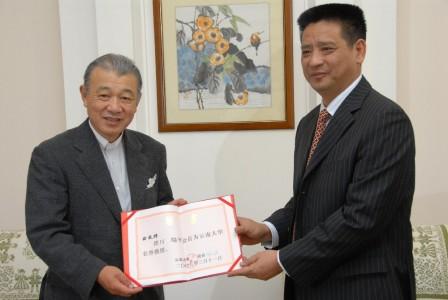 Yunnan University became a member of the Sylff program in June 1994. Since then, the university has awarded Sylff fellowships to more than 1,600 bright students. The city of Kunming, home to Yunnan University, is rich in cultural heritage and blessed with nature. The Sylff fellows study and conduct research in this wonderful environment.
Mr. Sasakawa travels heavily around the world on many causes, and never misses a chance to visit Sylff institutions and see the Sylff fellows. To exchange ideas with young, gifted fellows is one of his greatest enjoyments, Mr. Sasakawa says. Though he has visited most of the Sylff institutions, he has never had a chance to visit Yunnan University. The long-awaited initial visit by Mr. Sasakawa proved to be very fruitful.
At Yunnan University, Chairman Sasakawa met with University President Dr. He Tianchun and Vice President Dr. Xiao Xian, who expressed their gratitude to Mr. Sasakawa for the foundation's long-time support toward their students. The chairman also enjoyed talking to the Sylff fellows and the Sylff Steering Committee members. During the meeting, he listened intently to their reports on progress made in their research, and he was very pleased to witness Sylff bearing fruit in the university.