Sylff's Silver Jubilee in China (2): 25th Anniversary Ceremony and Commemorative Symposium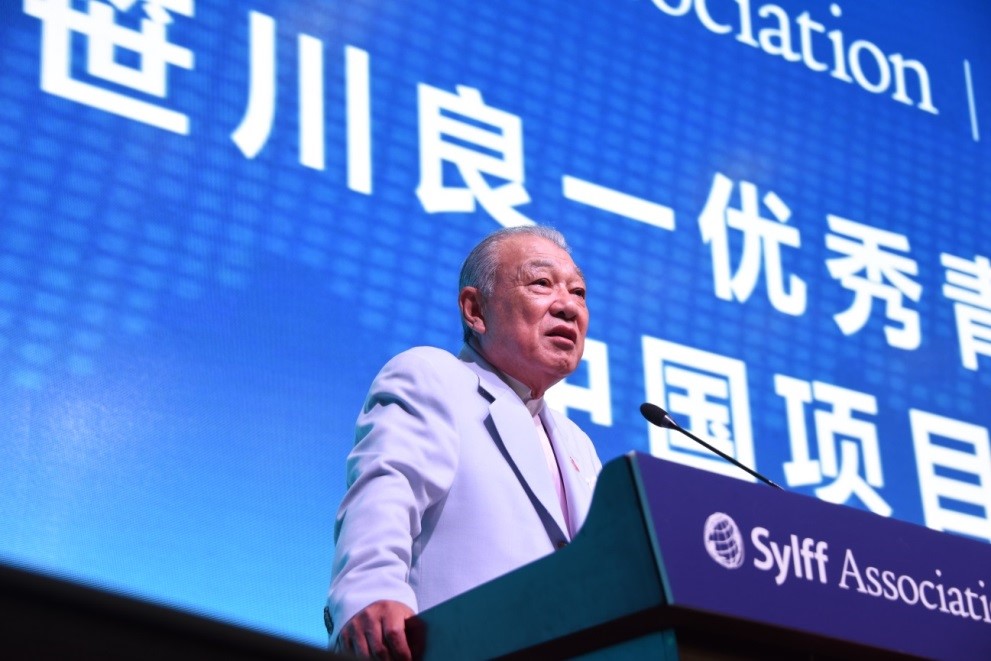 The twenty-fifth anniversary of Sylff in China was celebrated on June 30, 2018, at Qiulin Report Hall, School of International Studies, Peking University, attended by some 200 current and graduated fellows and Sylff administrators from all 10 Sylff institutions in the country. Gracing the commemorative event were government and education officials who played key roles in launching the Sylff program in China a quarter century ago.
Endowments were initially established in 1992 at Peking University, Fudan University, Lanzhou University, Jilin University, and Nanjing University. Five more schools received Sylff funds in 1994: Chongqing University, Inner Mongolia University, Xinjiang University, Yunnan University, and Sun Yat-sen University. The 10 universities have since produced over 8,000 fellows—more than half of all fellows worldwide.
At the commemorative ceremony, congratulatory remarks were delivered by Peking University President Lin Jianhua and Secretary General Zhao Lingshan of the China Education Association for International Exchange, who recounted the history of the Sylff program in China and shared their thoughts on program administration and leadership development in the years ahead.
This year also marks the fortieth anniversary of the signing of the Treaty of Peace and Friendship between Japan and the People's Republic of China. "There have been periods of stagnation in the relationship between China and Japan," noted Sylff Association Chairman Yohei Sasakawa, "but there are few examples in human history of neighboring countries maintaining ties for 2,000 years." Emphasizing the importance of bilateral exchange in the nongovernmental sector, he continued, "I hope that Sylff can make a positive contribution to a peaceful future in Asia and the rest of the world."
 At the commemorative symposium, approximately 200 fellows from the 10 Sylff institutes discussed the path taken by Sylff over the past 25 years and exchanged opinions on the kind of leader needed today in China, which has achieved rapid economic growth.

The Sylff anniversary event in Beijing received wide coverage in the Chinese news media. Articles posted on the websites of media organizations include the following:
Zhongguo Jiaoyu Bao (China Education Daily)
http://www.jyb.cn/zgjyb/201807/t20180720_1159245.html (in Chinese)
Xinhua News Agency
http://www.cankaoxiaoxi.com/china/20180706/2288971.shtml (in Chinese)
Renmin Ribao (People's Daily)
http://world.people.com.cn/n1/2018/0701/c1002-30097820.html (in Chinese)
http://j.people.com.cn/n3/2018/0702/c94473-9476836.html (in Japanese)
http://j.people.com.cn/n3/2018/0723/c94473-9483825.html (exclusive interview in Japanese)
Zhongguo Qingnian Bao (China Youth Daily)
http://m.cyol.com/yuanchuang/2018-07/01/content_17342007.htm (in Chinese)
People's China
https://mp.weixin.qq.com/s/qL0hYEKIfVDJQSsoUiWjYA (in Chinese)
http://www.peoplechina.com.cn/zrjl/201808/t20180821_800138749.html (in Japanese and Chinese)
http://www.peoplechina.com.cn/zrjl/201808/t20180821_800138750.html (exclusive interview in Japanese with Chinese subtitles)
China Radio International
http://japanese.cri.cn/app/20180701/197e47bf-48ec-21a9-6d90-58195a29ff8e.html?japaneseType=app&menuId=app_ja_09_11_101&from=groupmessage (in Japanese)
Dunjiaodu.com
http://www.dunjiaodu.com/top/2018-07-02/3092.html (in Chinese)
Renmin Huabao (China Pictorial)
http://www.rmhb.com.cn/wh/201807/t20180702_800134188.html (in Chinese)
China Daily
http://www.chinadaily.com.cn/a/201807/04/WS5b3c64b2a3103349141e0a42.html (in English)