Sylff@Tokyo: Serbia Fellow Researching Legal Principles Connects with Experts in Japan
Milos Markovic, a PhD student in law at the University of Belgrade in Serbia, is currently conducting research at the University of Tokyo on the distinctions between legal principles and rules. His research project in Japan, funded by Sylff Research Abroad, consists primarily of conducting interviews with judges, attorneys, and professors.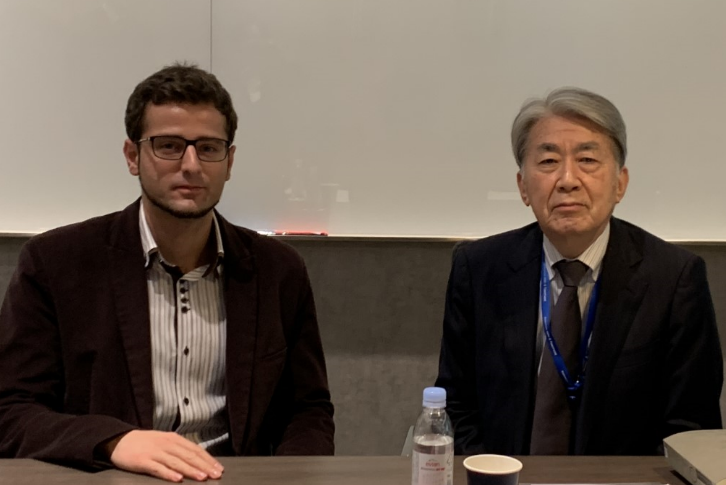 To facilitate his research, the Sylff Association secretariat introduced him to Masahito Monguchi, a trustee of the Tokyo Foundation for Policy Research, where the secretariat is located. Monguchi is a former president of the Nagoya High Court—one of eight high courts in Japan—and spent five years at the Supreme Court, where he was involved in many important decisions as a judicial research official. He also worked in the Cabinet Legislation Bureau of the Japanese government and has firsthand knowledge of the legislative process. He is currently an adviser for one of the country's biggest law firms.
Markovic visited him on December 16, 2019, at his law firm and discussed several court cases where legal norms appeared to conflict. Monguchi explained the approach used to resolve these conflicts, drawing on his own experience. He also referred Markovic to related cases that could be expected deepen and enrich his research.
Markovic also dropped by the Tokyo Foundation for Policy Research and met with Sylff Association program officers and with Charles Crabtree, a senior data scientist at the Foundation. Crabtree explained the major structural issues that Japanese society is facing, such as population aging and workforce gender imbalances, and offered to introduce other experts in Japan to help Markovic's research.