20th Anniversary Celebration of the Sylff Program at the University of Malaya -Culminating Event of the Sylff Community-
The University of Malaya, located in Kuala Lumpur, Malaysia, recently celebrated its 20th Anniversary of the Sylff program. The commemorative ceremony was held on May 31, 2010, followed by a two-day seminar entitled, "Today's Young Scholars, Tomorrow's Great Leaders."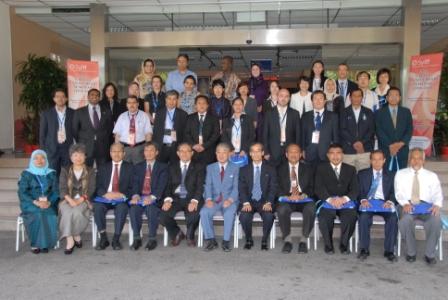 The University of Malaya was awarded the Sylff endowment in 1990. It was the 21st member to the Sylff program, and one of the first Sylff-endowed institutions in Asia. For the past 20 years, Sylff fellowships have been awarded to 57 gifted students, not only from Malaysia, but from countries such as Iran, Kosovo, Palestine, and Afghanistan, where there are no Sylff institutions.
Sylff fellows, old and new, gathered to show their appreciation. There were Sylff alumni who came all the way from Kosovo and Japan to commemorate the event. Many of the Sylff alumni of the University of Malaya now hold teaching positions at universities, or work at government agencies. "I deeply appreciate how much the Sylff fellowship helped my study," one of the participants commented. "That's why I'm here today for the celebration."
The special guests from the Sylff community also gathered for this event. Mr. Yohei Sasakawa, Chairman of The Nippon Foundation, Ms. Akiko Matsunobu, Executive Director of the Tokyo Foundation, and Sylff Steering Committee members from the University of Indonesia, Gadjah Mada University (Indonesia), Chiang Mai University (Thailand), and Vietnam National University came to celebrate the anniversary.
Dr. Ghauth Jasmon, Vice-Chancellor of the University of Malaya, Mr. Sasakawa, and Ms. Matsunobu delivered congratulatory speeches. The multi-national, multi-ethnic, and multi-religious composition of Malaya's Sylff fellows is representative of the "diversity" necessary to nurture future leaders who can transcend various borders and respect different values and cultures, which coincides with Sylff's mission. The huge success of the anniversary ceremony was proof of the deep commitment and leadership of the University of Malaya fellows.
In 2010, the University of Indonesia and Chiang Mai University will be also celebrating their 20th anniversary of the Sylff program. Delegates from both universities said that they were inspired by Malaya's success and will work to make their anniversary events just as successful and enjoyable.