A Real Conversation through Music
Our expedition began at the Charles de Gaulle airport, where Dylan, Carl-Emmanuel and I had agreed to meet. Excited and impatient, we journeyed in a superb Airbus 380: the flight went perfectly. Upon our arrival in Japan, there were 12 more hours of travel, and jet lag set in… I never adjusted completely to the time change: my body was tired but my spirits alert!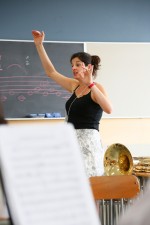 A very full program awaited us—perhaps too much for just seven days—the principal aim of which was for us to meet and exchange with Japanese students between the ages of 12 and 15, and to prepare them for our joint final concert in Tokyo. The experience was a fascinating one: I discovered an entirely different educational system! The students were very shy, making communication almost impossible the first day.
A typical day involved our departing together by bus from the hotel in Sendai at about 8:15, arriving at Tohoku High School 30 minutes later. Classes began at 9 am, and I would work on a rotating basis with groups of five to six students, according to their instrumental level. We worked on warm up techniques—these vary considerably between countries.
It was thus that I was able to work with three horn players at the highest study level—without translators—and to have a real conversation about our instrument. They asked me all sorts of questions related to the horn, to the music, and even about me! And I discovered that they were curious, eager to know more!
As a result of this exchange, they in turn confided in me, speaking of the impact the tsunami on their lives. Virtually all of the students had lost a member of their entourage during the catastrophe. I was very surprised and honored that they had chosen to confide in me, for this felt unusual. I shared a truly special moment with these young people, and the final concert in Tokyo's Suntory Hall was very moving indeed.
Throughout our stay, we were extremely well cared for—the Japanese team was most attentive to all our needs.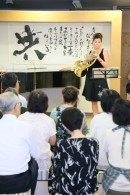 Our group gave a concert in Ishinomaki, a town situated on the eastern coast, north of Sendai. Around 90% of the town had been destroyed. We visited an old residential neighborhood that had been totally devastated and in which we saw only the remains of houses. I found this extremely upsetting and moving—almost embarrassing. While I'd thought I could imagine the horror of the catastrophe, in fact its reality came home to me for the first time in Ishinomaki. I felt the extraordinary Japanese determination to reclaim their lives, without giving in to despair. It was amazing.
I was thrilled to meet other Sylff fellows from New York and Vienna. I already knew the oboist Merideth Hite, as well as Bärli Nugent, who had coordinated the Sylff Chamber Ensemble project at the Juilliard School in January 2011. I performed Poulenc's brass trio with two Viennese musicians, Dietmar Nigsch and Panju Kim. Our encounter was a warm one, though the very tight schedule and lack of time made it hard to manage everything.
Performing together again is something we'd all like to do—though perhaps difficult to realize! For the moment, we are staying in touch and beginning to think about a new project…