Sylff Fellow Itamar Zorman Performs at Tokyo's Suntory Hall
Itamar Zorman, a Sylff fellow from the Juilliard School in New York, performed as a solo violinist at a Suntory Hall gala concert in Tokyo on October 6, 2012.
He performed the first movement of Tchaikovsky's Violin Concerto in D major, op.35. This is one of the pieces that he performed during the world-famous International Tchaikovsky Competition in Russia in 2011, which he won.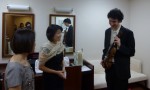 He subsequently performed winners' concerts with Maestro Valery Gergiev and the Mariinsky Orchestra. Our congratulations to Itamar for his brilliant debut in Tokyo!
Itamar's website: http://www.itamarzorman.com/web/home.aspx