International Seminar on North East India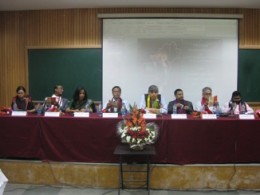 A two-day international seminar on "Challenges of Development in North East India: Issues and Concerns" was held at the University of Delhi on November 3 and 4, 2011.
The conference was convened by Kamei Aphun, assistant professor in the Department of Sociology, Delhi School of Economics, University of Delhi. Aphun received a Sylff fellowship from Jawaharlal Nehru University in 2004 and 2005.
In his description of the conference's theme in the opening session, Aphun outlined the need to study North East India from a wider perspective using a multidisciplinary approach. The region shares borders with five different Southeast Asian and South Asian countries and is of great geostrategic importance.
While many people regard studies of North East India to be limited value, he argued that the region's proximity to South East Asia was an advantage that can be used to promote tourism and bilateral trade and commerce.
There are also good prospects in the development of sports, horticulture, handicrafts and agro-based industries, in which the region has recently become a leader in India. The region is not only rich in flora and fauna but is also important for anthropological research.
At the same time, he noted, it has recently been marked by such problems as growing militancy and insurgencies, ethnic conflict and violence, illegal immigration, and environment-related problems. These issues need to be contextualized within a larger framework of regional economic development and prosperity, compared with the development of the country as a whole.
The conference's technical sessions addressed such issues "State, Ethnicity, and Development," "Environment, Culture, and Polity," the 1958 Armed Forces Special Powers Act that conferred special powers on armed forces in the country's "disturbed areas," "Identity, Conflicts, and Violence," and "Government Policies, Economy, and Gender."
The seminar was well attended and also featured paper presentations, an exhibition of books, documentary screenings, and special cultural programs.