Musiques à trois! — Music for Three!
Gretchen Amussen
Conservatoire national sup_rieur de musique et de danse de Paris
(The following is an excerpt from the SYLFF Newsletter No.18, May 2007)
Gretchen Amussen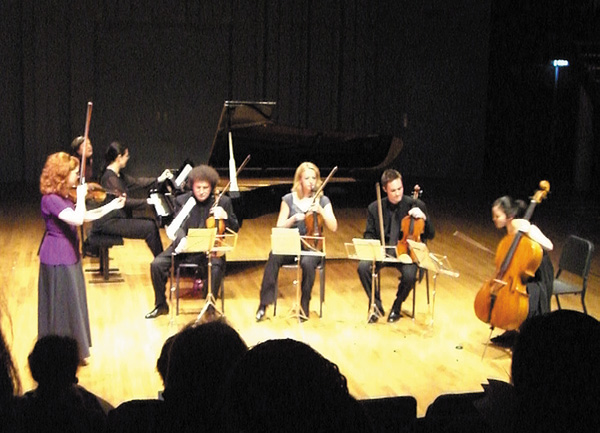 From January 24th through February 3rd, 2007, the Paris Conservatoire was the scene of intense music-making as 10 musicians from The Juilliard School and the University of Music and Performing Arts Vienna joined forces with 10 students and seven professors from the Conservatoire to prepare a major chamber music program that was presented on February 1st and 2nd at the Conservatoire, as part of the school's annual Quinte et Plus (Five and More) chamber music festival. This intensive event was the second of three SYLFF chamber music projects to be held over a three-year period, the first having been held at The Juilliard School in January 2006 under the FMP.
One specific aim of the Paris project was to include professors in the music-making— indeed this is the drawing point for Quinte et Plus, which features a week-long chamber music festival of the highest caliber. Our approach was to feature works by major French composers of the 19th and 20th centuries (Chausson, Poulenc, and the contemporary French composer Michael Levinas, who teaches at the Conservatoire), rounding out the program with works by the American Elliott Carter and the Austrian Strauss-Schoenberg. In order to enable the SYLFF students to mix with as many musicians as possible, each student participated in two chamber music groups—making for no small scheduling feat! Michael Levinas' work, doubtless the most challenging on the program both for its musical language and ensemble work, necessitated a sizable investment in time by the quintet's members. Levinas himself attended several rehearsals as well as the final performance, with which he was very impressed.
Above and beyond the intense rehearsing, which occupied a sizable portion of each musician's time, a city tour was organized for the entire group on the second afternoon; it proved highly popular. Many Viennese and New York students also took time to sit in on classes given by professors of their respective instruments; for the wind players, attending a class for the virtually extinct French bassoon was a high point of their time in Paris.
Barli Nugent, who had helped organize the project at Juilliard, and who is in charge of chamber music there, accompanied that school's group. She was able to visit classes and participate in meetings with Conservatoire department heads. Barli's participation in my department's meeting was seen by us as a high point of the year, and all of us were on our toes to ask questions in English. Many found it inspiring to hear about how issues like professional development are handled so imaginatively in an American institution, and such an outstanding one at that! Barli's experience as a former Juilliard student, seasoned chamber music player, doctoral student, and now an assistant dean having responsibilities in career development and chamber music, made our exchanges all the more rich. Barli's warmth and openness added immensely to the project.
The final result was music-making of the highest order. Our SYLFF musicians had the joy of performing for an enthusiastic audience that included the Tokyo Foundation's Ellen Mashiko, who took time afterwards to speak with each and every one of the participating musicians, sharing her impressions and getting feedback from them. At the post-concert cocktail party, laughter and delight abounded as musicians who had been absolute strangers to one another the week before snapped photos and eagerly sought to jot down e-mail addresses and phone numbers.


In retrospect, were we to do this again —and all of us believe such exchanges are essential for musicians, whose lives are spent on international stages and often interacting with artists whose training and indeed cultural references are quite different— we would probably reduce the number of participating musicians and designate one or two coaches. The complexity of juggling so many people's schedules—made all the more complicated because the French students also had their regular course load— would simplify things considerably and allow for visiting students to have more time both to visit classes and to get to know Paris.
Nevertheless, we believe that this was and is an absolutely perfect project for music institutions within the SYLFF family, because chamber music is in fact an ongoing conversation that requires that musicians be able to listen to one to another, the best possible musical outcome only successfully reachable if each musician has engaged in this "active listening and performing" in an atmosphere of profound respect for the different artistic approaches being expressed.
All of us are eagerly awaiting year three of the SYLFF chamber music project and a stellar experience in Vienna. For now, we give our heartfelt thanks to Ellen Mashiko and the entire SYLFF team for providing us with this magical opportunity to get to know one another in the best way we know how—by making music!
Gretchen Amussen

Ms. Gretchen Amussen is deputy director of external affairs at the Conservatoire national superieur de musique et de danse de Paris. She studied music and French as an undergraduate student. Her career has included management positions in not-for-profit cultural institutions in the United States and developing an international program and an external affairs division at the Paris Conservatoire. She is an ardent lover of music, loves to travel, and voraciously reads fiction from the many countries she visits. She is particularly interested in how the music profession is evolving (and what this means for training professionals). She serves as the contact person of the SYLFF Steering Committee and is an avid networker in general. Gretchen, was instrumental (no pun intended!) in organizing and implementing the SYLFF Chamber Music Seminar that took place earlier this year at the Paris Conservatoire.