"Global and Local Encounters" Seminar Organized by SYLFF Association at Helsinki University
On a very beautiful autumn day at the end of September 2008, the SYLFF Association at Helsinki University organised a one-day-seminar, "Global and Local Encounters." It was co-organised with the Confucius Institute at the University.
Global and local processes are multilayered and interrelated. Particular cultures, traditions, languages, and histories are in a continuous dialogue. Post-colonial theories look beyond the local-global dichotomy, emphasizing change and continuity. In order to understand global and local encounters a multidisciplinary research is necessary. Thus, different interpretations of global processes at local levels and impacts of local on global flows are needed. Many political, economical and cultural processes are parts of global transformations, but they are connected to local differences that bring new elements to global interconnected processes. This conference sought to gather scholars from different academic disciplines to engage in discussions on the constructions of local and global identities, as well as gender and minority issues linked with shared global spaces. In addition to neo-liberal globalization, the aim was to address the impacts of global political and cultural transformations at local levels. Since both "local" and "global" have been mystified and objectified, papers on the topic of how local and global processes take places in various ways in different places were also encouraged. Understanding contemporary interrelated global and local issues requires an analysis of geographical, cultural, and historical differences linked with spatial distribution of power relations.
Professor Kauko Laitinen, the Director of Confucius Institute and the coordinator of SYLFF programmes at the University, opened the seminar.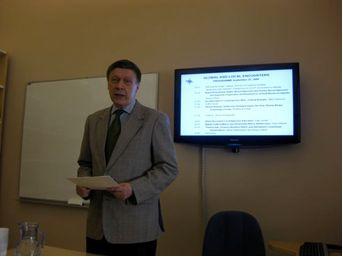 Dr. Pirjo Kristiina Virtanen, the chairperson of the SYLFF Association at Helsinki University, thanked the Tokyo Foundation and the Confucius Institute for their kind support to make this seminar come true. She also warmly welcomed the audience.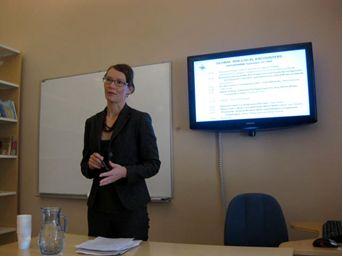 All six presenters were SYLFF fellows. The paper presentations were made on the following topics:
Negotiating Human Rights-Based Approach and Charity-Based Approach: Development Cooperation and Experiences of Deaf Women in Uganda (by Hisayo Katsui)
Secularization in Contemporary Tibet - Critical Remarks (by Mitra Härkönen)
Tibetan Refugee Settlement Thobgyal Sarpa: the Only Tibetan Bonpo Community in India (by Thupten K. Lunch)
Global Encounters in Indigenous Education (by Tuija Veintie)
Global Youth Cultures and Amazonian Native Adolescence (by Pirjo Kristiina Virtanen)
"Partnership" between Northern NGOs and Vietnamese Counterpart Organisations (by Minna Hakkarainen and Hisayo Katsui)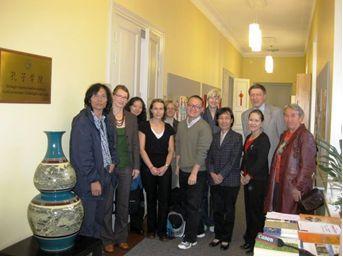 Each paper received great attention and constructive comments for further improvement of the research. Throughout the day, we had a lively discussion on the set theme of global and local encounters, especially on the topics of whose terms the norms are set, who were represented in the negotiation of encounters, and identity of those who are exposed to both local and global phenomenon, among others. Even though fellows were from different disciplinary backgrounds, we found many interesting aspects in common.
At the very end of the seminar, the presenters discussed the seminar proceedings. Our association will be publishing a book with the presented papers under the great leadership of Pirjo Kristiina Virtanen, the chairperson of the association. Pirjo and Tuija Veintie volunteered for the role of editors for the book. The book will be published in the Renvall Publication Series of the University early next year.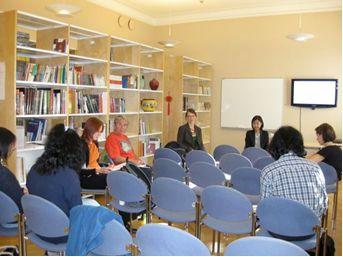 SYLFF related publications were displayed on one table at the seminar to widely share our activities.
Now, I am still excited that we had such a fruitful seminar. We would like to thank the Tokyo Foundation and the Confucius Institute for their moral and financial support in making this activity come true.