A Delegation from India Meets with Energy Expert at the Tokyo Foundation for Policy Research
Officials from the Energy Department of the Government of Bihar, Bihar State Power Holding Company Limited (BSPHCL), and other visitors from India dropped by the office of the Tokyo Foundation for Policy Research (Sylff Association secretariat) on January 15, 2019. The delegation was making the visit as part of a 10-day international study tour of Japan.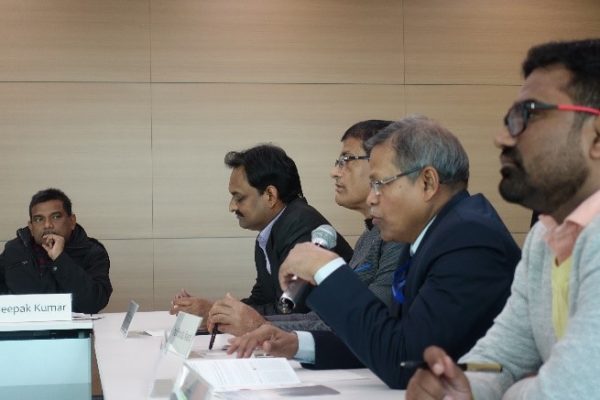 The study tour to Japan was conceptualized and designed by Professor Lakshmi B., director, Centre for Human Resources Development and Centre for Poverty Studies and Rural Development, Administrative Staff College of India (ASCI), Hyderabad, India. The purpose of the study tour was to help officials gain an understanding of the power distribution, transmission, and renewable energy scenario of Japan, as well as of innovations in the country's energy sector.
The delegation was led by Sreerupa Sengupta, a Sylff fellow at Jadavpur University, in 2008–10.
Sengupta is currently an assistant professor at the Centre for Human Resources Development at ASCI, Hyderabad. The Administrative Staff College of India is an institution of national excellence and has pioneered post-experience management education in India. ASCI was set up jointly by the Government of India and industry as an autonomous, self-supporting, public-interest institution to serve as a think tank providing policy recommendations and to develop management professionals for both government and business enterprises.
The delegation consisted of 14 participants, including Binoda Nand Jha, joint secretary of the Energy Department in the Government of Bihar; N.K.P Sinha, technical advisor, BSPHCL, and Pradip Maji, general manager for South Bihar Power Distribution Company Limited. They met with Hikaru Hiranuma, a research fellow at the Foundation and an expert on energy issues, who discussed the state of renewable energy in Japan. The visitors expressed great interest in the differences between India and Japan regarding energy policy and the energy situation, including the fact that electric power supply in Japan was provided by 10 separate regional companies.
The Sylff Association secretariat is always happy to welcome Sylff fellows and to connect them with the Foundation's policy experts.