Jaimee Stuart, who received a Sylff fellowship at New Zealand's Victoria University in 2009–11, organized a conference on school bullying as a Sylff Leadership Initiatives (SLI) project on July 8, 2015, in Wellington, New Zealand. Attending the workshop as observers from the Tokyo Foundation were Mari Suzuki, director for leadership development, and program officer Mana Sakamoto. The following is a report by Mana Sakamoto.
* * *
New Zealand has one of the highest prevalence of bullying in the world, with nearly 70% of students aged 8 to 12 and 50% aged 13 to 17 having experienced bullying at their schools, according to a Trends in International Mathematics and Science Study. Drawing on her research and experience as a phycologist, Sylff fellow Jaimee Stuart convened a mini-conference titled "Bullying: Identifying Effective Prevention and Intervention Strategies" to address this serious social problem, bringing together 75 participants from research institutions, governmental agencies, community organizations, and the media for a rare opportunity to share best practices and discuss how the issue can be tackled together.
Despite the pervasiveness of school bullying in New Zealand, which was found to affect both bullies and victims negatively even after they reached middle age, the many school-based interventions have failed to achieve beneficial changes in behavior. This is believed to be because such programs are not based on research evidence, they do not systematically address the complexity of bullying behavior, and they do not have broad community and government support.
By convening this conference, Stuart—a research fellow at the Centre for Applied Cross-Cultural Research and the Roy McKenzie Centre for the Study of Families at the Victoria University of Wellington—sought to encourage fuller dialogue among policymakers, researchers, and practitioners. She also hoped to produce an evidence base on which guidelines for effective intervention and prevention guidelines can be developed and issued to families, schools, and communities. A set of resources on bullying, including video presentations of the sessions to be disseminated online and an edited book for the general public compiled with submissions from invited presenters, will also be produced.

Potentially Fatal Consequences
In her opening remarks, Stuart pointed out that minority groups, such as the Maori, can also become targets of bullying, as many people find it difficult to accept the symbolic role of this indigenous group in New Zealand culture. Likewise, sexual minorities and increasing numbers of immigrants are often victimized. Bullying can have long-term repercussions for both perpetrators and victims, she noted, with bullied students more likely to suffer poor health and develop psychological symptoms and bullies having greater risk of serious injury and of becoming substance abusers and criminal offenders. The consequences, she added, can sometimes be fatal.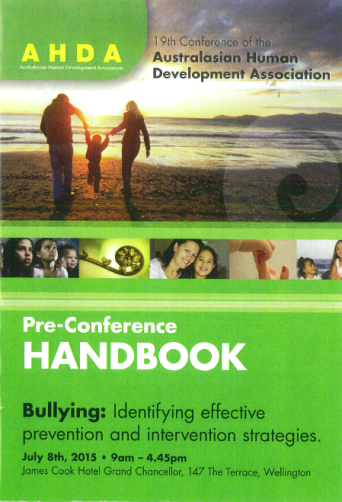 The workshop was held in conjunction with the 19th Conference of Australasian Human Development Association, which was organized to share knowledge, wisdom, and research-based insights into healthy development for young people and families. Held the day before the start of the AHDA conference, Stuart's workshop helped to shed light on bullying behavior and encouraged dialogue for a fuller range of participants.
Short presentations introduced key statistics regarding youth behavior and implications for long-term, negative health and social influences. Examples of intervention and prevention programs were shared, including KiVa, an evidence-based intervention for school bullying developed in Finland with funding from the Finnish Ministry of Education and Culture. Through an online game, students learn the best ways to deal with bullying behavior. Three schools in New Zealand currently use KiVa in their curriculum, and in the light of the preliminary positive results, many more schools are expected to adopt this program.
In another short presentation, the Gibson Group introduced a documentary about a unique intervention program in New Zealand schools that was shown on a national network in July. Small tutorials are held with students to discuss bullying behavior that is actually occurring in their class, enabling students to understand how their behaviors have led to bullying (http://www.gibson.co.nz/screen-projects/bullies).
In addition, a number of concurrent workshops were held, including one on cyber bullying that discussed cases of online intimidation and harassment. Differences with face-to-face or physical bullying were noted, such as anonymity, and schools were urged to provide training for teachers so they can quickly spot such hidden forms of bullying.
Another workshop given by the Ministry of Social Development asked participants to create a community intervention plan involving students and their families, highlighting the importance of community and family involvement in addressing school bullying. Other workshops and a panel discussion were held on such topics as the influence of family violence on girls' behavior, safe and peaceful schools, and the role of the community in addressing bullying.

"One of the Best Workshops I Have Been To"
All the objectives of Stuart's SLI project were met. The sessions of the conference were filmed so that videos can later be shared with other experts, filling an important void in resources. New networks were formed among the participants, which should not only lead to an improved school environment but also engender new initiatives to combat bullying. Based on the results of the conference, Stuart also plans to present policy proposals to the Bullying Prevention Advisory Group and publish a book in the near future.
The conference generated great enthusiasm among participants, who referred to it as "one of the best workshops I have been to in my professional career." One doctoral student at the University of Auckland, who drove all the way to Wellington to attend the conference, said he was impressed by the commitment other participants had shown in addressing the issue, adding that he was able to actively communicate with experts and gather information for his research.
Many speakers related their firsthand experiences with bullies. Sharing emotionally difficult stories required great courage, but they were determined not to retreat into their shells out of a desire to combat the bullying issue.
While working as a project organizer, Stuart actively and enthusiastically communicated with participants, and the conference is likely to have a positive impact on future efforts to reduce young New Zealanders' engagement in and exposure to violent behavior. It was also an excellent example of how an SLI project can be shaped to incorporate both research and networking elements and to address important social issues in a developed country.
Thanks to the SLI award, moreover, Stuart was able to raise 1,200 NZ dollars, which will be donated to the Mental Health Foundation of New Zealand.
The Tokyo Foundation wishes her much success in all her future initiatives.