James Martyn completed his Doctorate at Massey University in New Zealand in 2014–16 as a Sylff fellow. He currently works as a psychologist at the Department of Corrections in Tauranga, the fifth most populous city of New Zealand, and privately as a mental health consultant. Amid the worldwide COVID-19 pandemic, James has been utilizing his expertise in creating space for good conversations through a short video series on YouTube, covering such useful topics as stress and better habits under the difficult circumstances.
* * *
Introduction: Good Intentions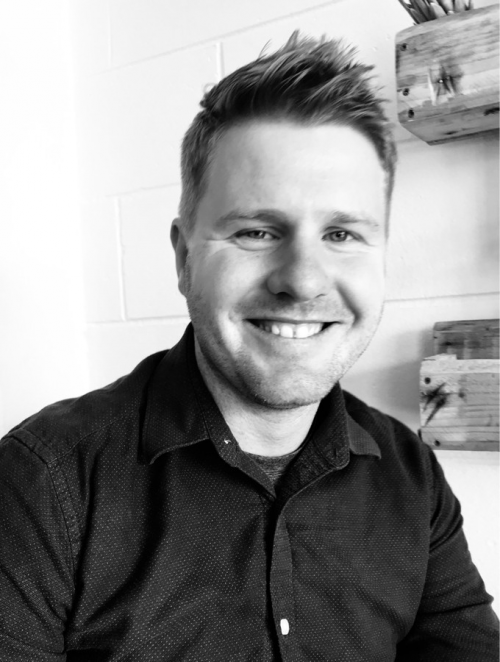 I have always wanted to be the sort of person who can be helpful in a time of need; to know not only that I can help if needed but that the type of help I can provide is useful. It is one of the things that led me to become a psychologist. But if I am honest with myself, there are many days when I feel like I fall short. As I sit and reflect on life, I often feel an internal pull toward doing more for others: to give more, be more, and have more of an impact. Too often, I think of the "big" things I wish I could do or might do in the future to be useful. However, during these times, it is easy to discount the small and perhaps equally important things we can do today to be helpful. It is my intention to focus not only on the big things in the future but also on the small things and the small ways in which I can be more outwardly focused today.

Coronavirus: Different Boats, Same Storm
Amid the coronavirus pandemic in 2020, we have all witnessed and experienced a rapidly changing world. These changes have contributed to a wide range of very real challenges that we have either experienced or observed in ourselves and in others. Whether the challenges were experienced emotionally, physically, socially, psychologically, or spiritually, there are very few people who have not been affected in some way by the recent circumstances. 
While I think it is a misconception that we are all in the same boat together during this pandemic, I certainly feel we are all experiencing the same storm. At times the figurative rain and wind have felt unrelenting. During this time some of our boats, for a variety of reasons, continue to fare better or worse than others. But like all storms, this too will pass—although this particular storm will be long remembered. The storm's gift and curse is that it has brought to our attention a number of areas, personally, nationally, and even globally, that may require some repair to ensure our safety and the safety of others in the future. 
In our small country of New Zealand, with just over five million in population, it is easy to see that we have been incredibly lucky as a whole, despite the suffering of many. As of this writing, our country has been fortunate enough to be able to lift almost all of its coronavirus restrictions, despite some fluctuates across the country. However, New Zealand, as with many other countries, continues to face struggles. The increased stressors, pressures, and uncertainty that have arisen alongside the implications of the coronavirus have had and continue to have an impact on many people's mental health and well-being. 

How Can I Be Helpful?
Just a few months ago, our country, like many others, entered full lockdown. We began to face the challenges of social and community disruption, financial pressures, and interruptions to many aspects of our daily lives on a scale that we had not seen before. While many people did not experience significant difficulties, for others the impact and uncertainty brought considerable stress. 
As a psychologist, I continue to work with adaptations to my day-to-day activities. In one of my roles, I work as a consultant with a friend and colleague at Lumind.co.nz. Lumind is a small start-up consulting and training company that we created with the intention to provide accessible, useable, and relevant evidence-based psychological information to businesses and community groups. Our aim is to help groups to "mind what matters." Talking via Zoom, at one point we discussed the likely implications of the coronavirus on mental health. We wanted to help in some way, to find a place to step outside of our comfort zone. Together, we have often discussed the "big" ideas and dreams about what we can pursue. In doing so we have dreamt, strategized, and reflected, often at the expense of acting in the short term. This is not to say that taking time to think big is unhelpful, but I feel our focus on the future can at times lead to missing the smaller opportunities that lie in front of us. Consequently, as we spoke about wanting to be useful in this moment of the coronavirus pandemic, we decided to put aside our preconceptions of having a polished product and simply try to give some of our knowledge and resources to others. We tried to be useful in our own small way.

Our Mental Health and Technology Focus
Our particular area of interest at our business, Lumind, is the intersection between mental health and technology. It is our view that at present, psychological resources are not delivered effectively. Access to evidence-based psychology assessment and intervention in the community is typically bottlenecked by limited service resources. This is due in part to numerous barriers that surround current mental health treatment and delivery, which have contributed to discrepancies between treatment needs, availability, and uptake. Consequently, too many people who could benefit from psychological resources and greater well-being ultimately miss out on or are not afforded equal opportunity for access. It is our view that technology is one critical component that can help disseminate evidenced-based psychological resources and potentially improve access to appropriate resources in the future. We feel that this may subsequently work to improve mental health and well-being for many who may have otherwise missed out. 
Mental health and well-being has become an increasingly popular topic in recent years. New Zealand was the first country in the world to develop a "Wellbeing Budget." Additionally, the number of well-being-focused websites, applications, podcasts, books, and other resources has grown exponentially. On the whole, this is a great thing. However, not all content is created equal. It is our view that there is a lot of information available through technology that has good intentions, but not all are evidence based. In some cases, the content and delivery method may even lead to a negative outcome. As such, we feel that psychologists should have a voice in the well-being and technology area. Lumind wants to be part of the conversation.

Creating the "Minding What Matters" Video Series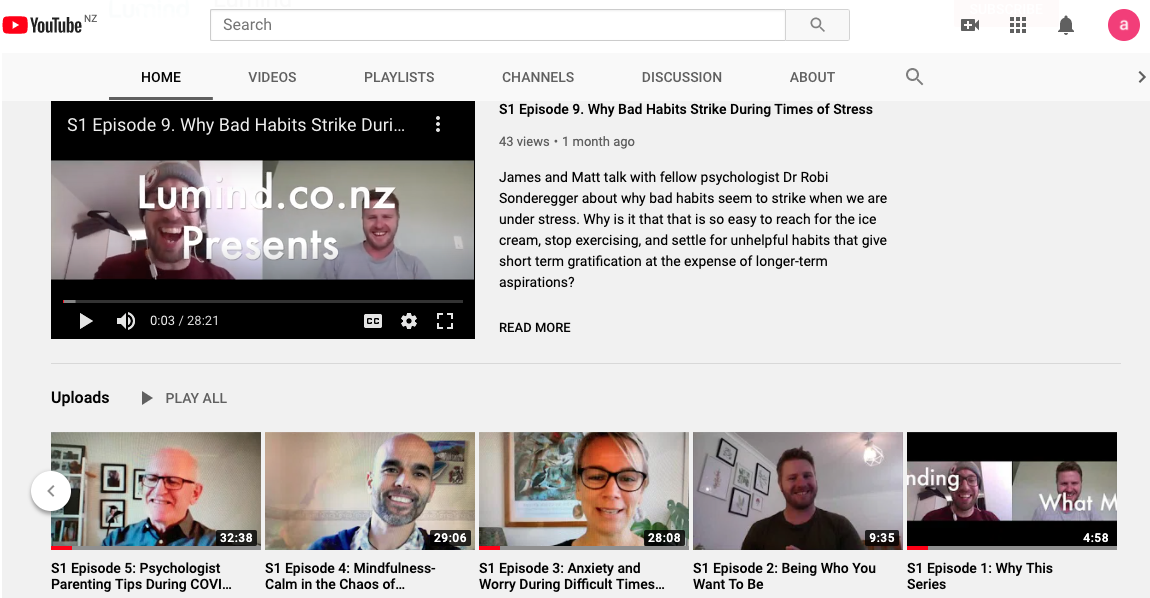 With this in mind, outside of our normal work, we decided to do something small using technology—something that utilized our expertise. As with any time you put yourself out to the public, it was very easy to think of the reasons not to go ahead. For instance, there was plenty of other content available online; our video and audio quality was relatively low; given that our content was casual and unscripted, we may say something incorrect or that may be judged differently than our intention. However, when we came back to our intention—to show support to our community in a time of need—we felt that the benefit was worth the effort. 
As psychologists, we are not trying to pretend we "have it all together." We understand that we have our own paths climbing our own personal mountains with their own unique set of challenges. However, from our vantage point on our mountain, we may be able to see your position from a different angle. Our perspective, as well as the skills we have developed along the way, may be valuable to share. As such, my colleague and I decided to put together a short video series titled "Minding What Matters." Each video was a casual, lighthearted, and short conversation with other psychologists. Together, we chatted around a particular topic area that we thought may be helpful during COVID-19 and beyond. 
The result was a series of nine videos available on YouTube with such topics as "virtually supporting someone who is struggling," "dealing with anxiety and worry during difficult times," "parenting tips during stressful times," and "why bad habits strike during stress." In total, we have had around 900 views so far. Our intention has never been to obtain media views, but to be useful. It has been great to see that a few people have found it beneficial along the way. We have had positive feedback from people in care-type roles and helping professions, strangers, parents, and our friends. That is all we could have asked for. 

Conclusion: Remembering That Small Steps Matter
We are well aware there is better content with better quality available. But I think there continues to be space for both small and big projects; space for good conversations around relevant topics and based on evidence-based principles. In the future, it would be great to work more in this space, perhaps even take more risk and step further out of the comfort zone. But it has been a valuable experiment, one that has taught me to not take things too seriously and that taking small steps to help others today may at times be more effective than waiting for the "right time" to make many big steps to help others in the future. I think there are a lot of opportunities out there, ready for psychologists and other professions to share their skill set. I am learning to be bolder and to open my eyes to what these opportunities may be, both now and in the future. I hope you are too.

Lumind Channel on YouTube
https://www.youtube.com/channel/UCFr_ZQRaUGIVatjTrdVlbYg
Lumind is a start-up psychology consulting and training company consisting of co-directors Dr. James Martyn and Matt Hegan. Lumind aims to provide accessible, useable, and relevant evidence-based psychological information to businesses and community groups. Lumind's purpose is to help people focus their "mind on what matters."
Episode 1: Why This Series
https://youtu.be/vppYkanPXXI
Episode 2: Being Who You Want to Be
https://youtu.be/vppYkanPXXI
Episode 3: Anxiety and Worry during Difficult Times and Lockdown
Episode 4: Mindfulness—Calm in the Chaos of Lockdown
https://youtu.be/ztv625cG1T4
Episode 5: Psychologist Parenting Tips during COVID Lockdown
Episode 6: Mental and Physical Performance during Lockdown
https://youtu.be/TRnck0X_qVE
Episode 7: Virtually Supporting Someone Who May be Struggling
Episode 8 (BONUS): Psychologist Learns from 6-year-olds—How to Be a Good Friend in Lockdown
Episode 9. Why Bad Habits Strike during Times of Stress
https://youtu.be/RKMrPMR6t4Y