In this article, 2020 Sylff fellow Amit Singh questions the concept of normality. While the COVID-19 pandemic may have redefined "normality" for India's privileged classes, the very idea is an illusion for the marginalized, who live in permanent crisis. The pandemic, under which the state has done poorly in securing the basic needs of its vulnerable, "has exposed the fault lines of fragile Indian society," says Singh.
* * *
The disruption of daily life, due to COVID-19 pandemic in India, reminded me of Prime Minister Narendra Modi's shock decision in November, 2016 to scrap 86% of India's currency (demonetisation); the abrupt disappearance of cash crippled supply chains and led to systemwide job cuts, which made life worse for the poorest in India—disrupted their normal lives—in a similar manner, this health pandemic is also affecting. Due to COVID, Indian state, like others, faced an abnormal situation-suspension of normality. What does normality mean for the marginalised Indian population? Whom does normality serve? We need to ask this question. Well, for the millions of daily wage workers 'normality' may be an illusion.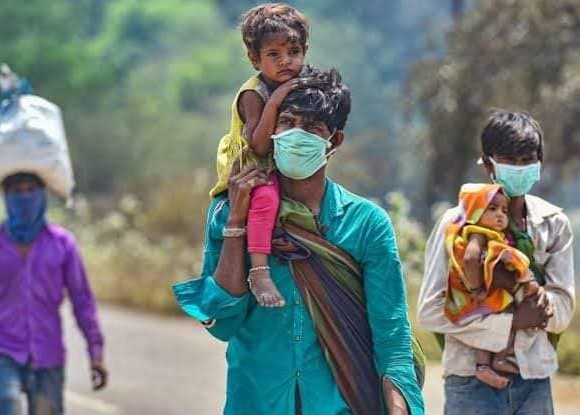 During the Indian lockdown, hundreds of inter-state migrant workers have died and disappeared from the surface of society without any trace. What normality would have meant for them, I just wonder! Professor Boaventura de Sousa Santos (2020) thinks their lives were not an exception to normal situation. Daily wage labourers, vegetable sellers, poor farmers, street vendors, homeless people—all are part of this normality of exception. They have been living in dire situation—abnormal life—being normal for them. These people from abject spaces, as Julia Kristeva (1982) would call them, survive on meagre daily wages, face police violence and receive apathy of general society on a daily basis; possibly normality is just an illusion for them.


India's nationwide lockdown amidst the COVID-19 pandemic has critically dislocated its migrant population. The pandemic is not a crisis situation clearly opposed to a normal situation; for thousands of inter-state migrant workers, unable to cope with hunger, were forced to walk to their villages, hundreds of kilometres, barefoot, with no food, and transportation shut down—with some dying during the journey—this crisis is permanent; they are not an exception of this so called normality. They have already felt the disruption of their daily lives so many times that 'normality' has lost meaning for them. Their lives have been hijacked by discourse of normality; making it appear that they are living a normal life like most of their compatriots. However, the fact is that they have been trapped in the circle of crisis by the State, by the Corporate, by the privileged middle classes. Mainly living in slums, they feel the crisis through extreme poverty, starvation, disease, and wage inequality; crisis, being an essential part of their lives, where the idea of 'normal life' is absent.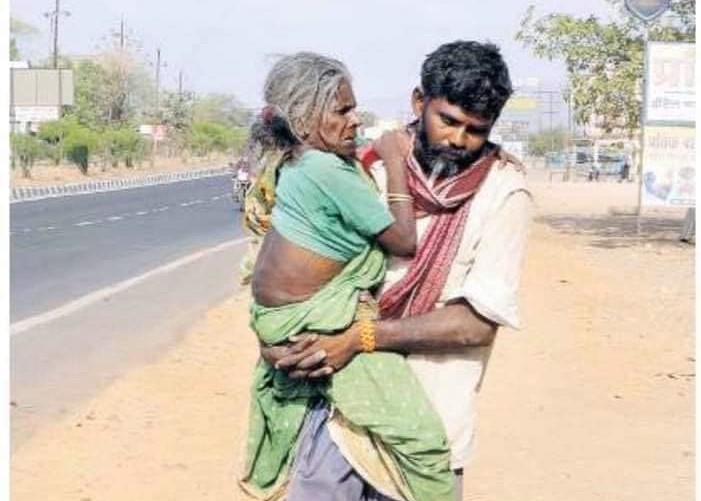 They are the invisible foundation of visible societies on which nation and state stand; from manual scavenging to farming, without them, Indian society would not function. For 450 million of India's informal sector's workers, life was never normal. Their existence mattered to the Indian State—I seriously doubt it. With no health insurance, poor working condition, crammed living conditions, lack of social security and low wages, their lives have always been in a permanent state of crisis—even in so called 'normal times.' During the lockdown, it was mainly the dead bodies of the hungry, the poor, the beggars, the unemployed, the migrant workers, women and children, were scattered all over the country. Even in normal times, they have been dying like that, due to starvation, lack of health care, malnourishment, burden of debt, state violence and caste discrimination. Nevertheless, it was during these abnormal times when their deaths get more attention and sympathy. However, those who are alive, would gradually die because of unemployment, rising inflation and inability to buy food. Paradigm shift, necessary for social change, is yet to happen in the Indian society. Indeed, the pandemic has deeply disrupted the lives of millions globally; however, it was the incapability of the leadership to deal with the pandemic efficiently which has exacerbated this crisis. Organised governmental chaos in India has led the humanitarian crisis of an epic proportion, has reproduced existing inequalities and exclusion of the marginalised population.
These are the times when the capability of the States to secure basic needs for their vulnerable population is being tested to the core. In such crisis, an effective leadership could navigate society away from impending disaster, like leadership in Portugal and New Zealand did. However, unlike India, in Portugal, a humane approach was adopted in dealing with the pandemic; people were given ample time to settle before national emergency was enforced (in India lockdown was brutally enforced only on four hours of notice), no one was brutalised by the police, and public transportation was totally free for all. However, I was sad to see that in Lisbon (where I stayed during the lockdown) how some Asian communities' members, primarily Bengali Indians (Martin Muniz area), Pakistanis and Chinese businessmen exploited their Asian employees. Less payment, long hours of work, firing employees without any pay, coercion, disregarding work contract, are some of the human rights abuses. During the lockdown, Asian immigrant workers have suffered at the hands of their Asian employers. But, in normal times, they suffer the same fate on a daily basis. Normality, probably, is an illusion for them, but crisis is not. Pain, agony and frustration arising out of the crisis is very real for them.
Finally, it can be said that COVID-19 pandemic, maybe by nature is exceptional and temporary to the ruling elites and middle classes, however, for the millions of the poor Indian inter-state migrant workers, crisis is permanent. Pandemic has exposed the fault lines of fragile Indian society. It certainly has shown the Indian migrant workers that they are unwanted in their own country. How much such societies are able to sustain the forces of volatile disruption, only time will tell. COVID-19 pandemic may have redefined the 'idea of normality' to the privileged one, but for the excluded, marginalised and discriminated, comfortability of normality is just an illusion.
REFERENCES
Kristeva, J. (1982). Power of horror: An essay on abjection. Translated by Roudiez, L. Columbia University Press: New York. Retrieved from https://users.clas.ufl.edu/burt/touchyfeelingsmaliciousobjects/Kristevapowersofhorrorabjection.pdf
de  Sousa Santos, B. (2020). Black Issues in Philosophy: Virus that is solid melts into air. Blog of the American Philosophical Association (APA). Retrieved from https://estudogeral.sib.uc.pt/bitstream/10316/89211/1/Virus_all%20that%20is%20solid%20melts%20into%20air.pdf
The original article is published in: Explorations, ISS e-journal <http://app.insoso.org/ISS_journal/Issues/October_2020> , Vol. 4 (2), October 2020, published by Indian Sociological Society.