Proceedings of the 2010 Sylff Administrators Meeting is now available in PDF format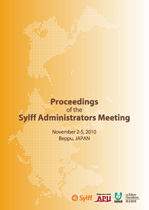 From November 2 through 5, 2010, the Sylff Administrators Meeting was convened at Ritsumeikan Asia Pacific University (APU) in Beppu, Oita, on the southern island of Kyushu. APU, the newest member of the Sylff community, hosted this gathering, which was attended by some 100 administrators and faculty members representing 62 (out of 69) Sylff-endowed institutions in 40 countries, as well as 11 Sylff fellows from 8 countries.
The proceedings includes the minutes or summaries of all sessions in Beppu—plus photos—and the dialogue with cabinet ministers during the Tokyo field trip. The Appendix contains a List of Participants, and there is also a group photo taken in Beppu at the end of the file. Please click on the name of the session to view the file.



CONTENTS
Foreword
Opening Session
Welcome speech by Yohei Sasakawa; opening remarks by Hideki Kato
Session 1
Welcome by Shun Korenaga; presentations by APU students and faculty member
Session 2
Introduction to the Tokyo Foundation and overview of the Sylff program
Session 3
Additional activities supported by Sylff; presentations by fellows
Special Lecture
"Sound, Science, New Technology, and Emerging Nations" by Monte Cassim, Vice Chancellor, Ritsumeikan Trust
Welcome Reception
Entertainment by APU students
Session 4
Presentation by the Tokyo Foundation; presentations by five Sylff institutions; presentations by each group; plenary discussion and wrap-up
Session 5
: Presentations of Fellows' Research and Activities
Ethar el-Katatney, "Information Overload and Ignorance in the Digital Age"; Ichiro Sugimoto, "Beyond the Divide: Humanitarian Competition"; Heather Montgomery, "Globalization: Good or Bad?"
Joint Concert
Toshie Suzuki and Juilliard fellows
Grand Finale
Presentations by 13 Sylff administrators; special presentations by Mariko Hasegawa and Yoshikazu Takaya
Beppu Field Trip
Tokyo Field Trip
Appendix
Meeting schedule; list of participants, list of Sylff institutions
Group Photo